What are Trilogos?
The Trilogo Concept
From 1984 a new design of Star Wars packaging was being produced for the European market, it's main aim was to cut costs and combine multiple languages for easier distribution.
A Brand new design was made for the cards and figures were released on what collectors came to call "Trilogos" due to the three logos used on the card.
Almost all the figures in the Vintage line were repackaged on some form of Trilogo card with the exception of the following figures:
4-LOM
Death Squad Commander
C3-P0 (original)
R2-D2 (original)
Power Droid
Walrus Man
(R2-D2 original can be found on early French Meccano cards  and the Death Squad Commander exists on a "miscard" which was a method used to clear overstock figures)
Greedo, Cloud Car Pilot, Hammerhead, both Bespin Guards and Snaggletooth were released but not on "true" front and back Trilogo cards.
As well as the action figures themselves, a selection of boxed vehicles, mini rigs, playpacks and playsets were also released in Trilogo packaging.
Trilogo figures and boxed toys were produced and sold right up until 1985/86 when production finally ceased but were and still are quite easy to find due to the large quantity produced.
Return Of The Jedi Three Logo Design
The new packaging combined graphics from earlier Spanish, French and English cards, in fact 6 languages were represented on the card in the "Ages 4 and up" and the "Collect all 70″ text. (English, Spanish,French, German, Dutch and Italian)
This new logo was adapted and combined from the English ROTJ logo used by Palitoy and the translated ROTJ logos used by Meccano (France) and PBP (Spain).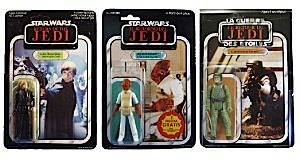 You can see below how each logo was shrunk from each of the three cards and used to create a cascading three logo effect.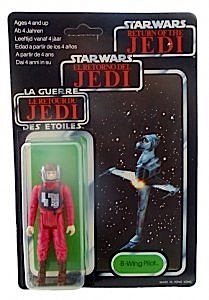 Power Of The Force Three Logo Design
Interestingly after the cascading ROTJ design had been applied to figures and larger boxed toys the Kenner POTF logo was also used in the same way on a few figure/vehicle playpacks, these were produced after the ROTJ Trilogos and unfortunately the POTF logo was never used on single figure packaging in Europe.
(Click here to see some POTF Trilogo boxed toys)
The Trilogo POTF design is really quite striking and many consider it a shame that it didn't get the chance to be used on more toys.
The ROTJ and Trilogo period
The Popularity of Star Wars toys in the mid eighties was still quite high with the release of Return Of The Jedi in 1983 which brought a wave of new figures to the market after Empire Strikes Back.
Due to this sustained popularity in the films & toys, the figures were produced in huge quantities and Trilogos were mass produced for Europe. Unfortunately interest would drop in the next few years and never recover – so while Trilogos were produced for a flourishing market and in many ways show just how popular Star Wars was all over the world they also represent the downfall that Star Wars suffered after the movies.
It was inevitable that after Return Of The Jedi left the cinema and the new toys had been made, distributed by the toy companies and bought by parents for their children that production would  eventually go into a downward spiral  with factories closing, jobs being lost and a huge supply of unsold figures left over. This was definitely a very chaotic period in Star Wars toy history.
And, just so I don't end this page on a sad note – if it wasn't for all those unsold toys we wouldn't have so much to collect ! A silver lining to every cloud..
Enjoy the rest of Trilogo.info and if you have any information to add to any part of this site please get in contact -joe@trilogo.info