Collector Interest
The majority of Vintage carded collectors in the early days disliked Trilogo cards because they were pretty generic and a bit cheap, in fact European (or Foreign to Kenner) items were not really hot for a long time until the late 90's/early 00's when collectors were finishing their Kenner collections and seeking something else, as time went on more and more of the previously shunned European products were rising in popularity.
Many collectors decided to buy into Trilogo cards after noticing the bubbles used on them were seemingly immune to yellowing unlike Kenner bubbles which, on ROTJ and POTF figures was a big problem – the chance to display clear bubbles in a collection is something many collectors enjoy.
There are a few other reasons why Trilogo carded figures increased in popularity, mostly because it's one of the only packaging styles that almost all the figures can be found on, great for those seeking a "set" – it's not possible to get a complete set of POTF figures (including re-released figures on POTF Packaging) for example but on Trilogo cards you can almost have a full set of Vintage figures in identical packaging.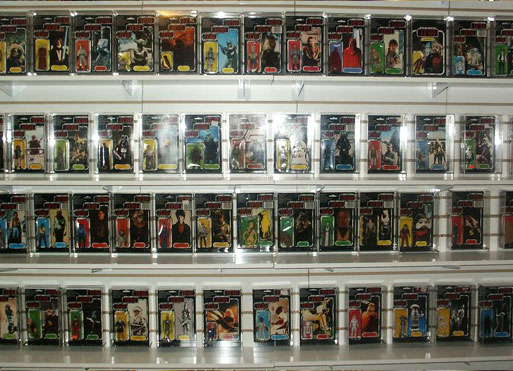 Cost is a factor as well, due to the amount of Trilogos out there and their relatively low cost compared to many figures (Yak Face Trilogo VS Kenner POTF Yak Face or Anakin..) collectors find it easier and cheaper to put together a good core set of figures. There are many hard to find figures (and variants) too though so be prepared for a challenge.
Collector interest rose again in 2006 when a French collector by the name of Stephane Faucourt decided to release a book called Meccano To Trilogo, based off his own knowledge and collection which really helped put a lot of lesser known information about Trilogos (and French products) out there for collectors, his publication remains one of the only in depth sources of information on Trilogos.
Due to Stephane's efforts (and of course many more knowledgeable  and dedicated collectors on various forums) Trilogos have slowly risen again in popularity, whether its a casual MOC collector buying figures because they enjoy the clear bubbles or the design on the cards to the focus collector aiming for all known Trilogo variants for his chosen character.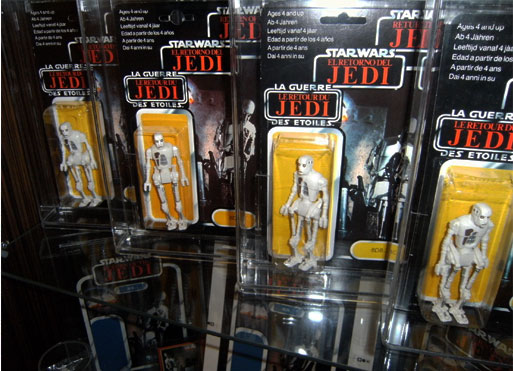 Trilogos have definitely gone from being bargain bin figures to enjoying the high life of acrylic cases and Ikea cabinets.