Cardbacks: Advanced Guide
Ready to go insane? From minute differences to easy to spot variations – Trilogo.info brings you the advanced guide to cardbacks!
The following guide is definitely more advanced than the easy to remember A-D designations we went through in the beginners guide so don't jump in without reading that first to familiarise yourself with the 4 "main" card styles, for many collectors the beginners guide will be more than enough knowledge.
In reality Trilogo collecting is a really rich area for variations which is why it's not easy to assign cardback designations to the cards, it is in fact easier to describe them using their appearance and traits to identify which country they were intended for. Many of these are characterised by differences in punch style, bubble size and shape and of course import stickers.
For any one character you may be able to find 4, 5 or even more variations on a Trilogo cardback due to the amount of countries Trilogo cards were available in.
*Important* – This is not to be considered a designation system, this is a guide to show which cards were produced by each Company – in turn it gives us their origin. So instead of assigning letters to each card I will be simply showing which cards belong to which Company/Country.

PALITOY PRODUCED TRILOGOS

TYPE: HYBRID TRILOGOS
ORIGIN : UK
PUNCH STYLE :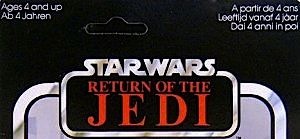 (Factory unpunched but with perforation lines)
When the first ROTJ figures hit the shelves, Palitoy put out a 65 back card with 5 languages on the front, English, German, Spanish, Dutch and Italian – the "Hybrid" cards have the exact same 65 back Palitoy cards but have the new Trilogo back.
There is a difference of opinion as to whether these were produced before Trilogos or later on (Some kind of repack/overstock issue)  however the hybrid name suffices in describing them as they are neither a True Trilogo or a ROTJ Palitoy card.
What you will notice about the cardbacks punch is that it has the same style as the earlier Palitoy 65 backs & the common high quality Trilogo both produced by Palitoy, it gives a good indication of it being produced in the same factory.
The only figures to appear on the Palitoy Hybrid packaging were: Hammerhead, Snaggletooth, Geedo, Bespin guards (Black & White) and the Cloud Car Pilot.
TYPE : REISSUE AND ROTJ CHARACTER TRILOGOS
ORIGIN : UK
These are the typical Trilogos which are easily found on a day to day basis on collector forums and of course ebay for sale or in peoples collections.
These cards were all produced by Palitoy and there are three known types of card,  all quite as common as each other – the figures released on these cards were all either reissues (SW-ESB) or ROTJ figures and can have a variety of bubble types but etched (long and short) are the most common.
TYPE 1 : (Referred to as the 70B on the basic guide)
PUNCH STYLE  :

(Factory unpunched with perforation lines)
This card is a high quality, glossy card with the Palitoy punch style like the Palitoy hybrid cards and is often found unpunched, you can see it was factory unpunched but has perforation lines. These cards are almost always the ones found with import stickers on from companies like Clipper.
TYPE 2  : (Referred to as the 70C on the basic guide)
PUNCH STYLE :

(Long and thinner than the previous punch shapes and also factory punched)
This card has a low quality matte finish which was most likely factory punched, it's made from a very thin cardstock and can appear quite flimsy when held.
These cards exist for a large number of figures but not all Trilogo released figures have been found on them, in theory all figures could have been produced on these cards but some are still unknown.
The Main characteristic is thankfully easy to spot from a picture, the racetrack around the bubble is noticeably larger than the previous mentioned common card (70B) and the Lucasfilm Trademark is now inside the white border & written on black text as opposed to under the border & in white text. Also – take note of the long thin punch and the lighter coloured back.

(Shown together the difference is obvious, type 1 on top, type 2 below)
TYPE 3 : (Not referenced on the basic guide)
PUNCH STYLE:

(Factory punched with no perforation lines)
A common card to find in the UK however not a widely known variation.
This card has all the characteristics of a 70B/Type 1 yet the punch was die cut at the factory and has no perforation lines, it is also noticeably thicker than the 70B/Type 1 card.
It's important to note that this style of punch shape was also used in France and the two card types are very similar, especially as Palitoy and Meccano sometimes used similar bubbles on the cards. Logray and Luke Jedi are good examples as they can both be found on this card with small bubbles and are often mistaken for Meccano variants.
TYPE : POTF CHARACTER TRILOGOS
ORIGIN : UK
(On the beginners guide this card is referred to as the 70D)
PUNCH STYLE :

(Factory unpunched with perforated lines)
This card is unique to all the other designs as it features a UPC code (barcode) on the upper right hand corner.
The only figures released on this particular cardback were the POTF range (Last 15) – Palitoy were by this time producing the bulk of the figures for Europe and many of these cards were exported to other countries.
This type of card can be found with or without the factory applied "NEW FIGURE £1.59″ special offer sticker used by Palitoy to promote the POTF range and sell figures.

PBP PRODUCED TRILOGOS

TYPE : HYBRID TRILOGOS - REISSUE AND ROTJ CHARACTERS
ORIGIN : SPAIN
PUNCH STYLE :

After PBP's ROTJ line finished and Trilogo packaging replaced the various companies own packaging styles there were some transition period between designs – this can be seen on the PBP / Trilogo "Hybrid" cards which feature a ROTJ PBP 65 back design but with the new Trilogo cardfront.
In fact the decision to keep the ROTJ back on these cards was made on purpose due to the Nien Nunb mail away promo in Spain! During the Trilogo period PBP was still offering the Nunb free figure offer from their 65 back cards and decided to keep the backs active whilst the promotion was in date, later switching to true Trilogo backs.
Another way to identify these figures from the front is the use of ROTJ PBP oversized bubbles, they also share the same punch hole as the PBP ROTJ line: a semi circle punch with a larger than normal hole.
In total there were only 8 figures released on this hybrid packaging, they were: 8D8, B-Wing Pilot, Zuckuss, Wicket, Teebo, Luke X Wing, Rancor Keeper and Nikto.
TYPE : POTF CHARACTER TRILOGOS
ORIGIN : SPAIN
PUNCH STYLE :
The POTF cards were not too different in card design from the Palitoy produced POTF card but Spain were still releasing their figures using oversized and unique bubbles so they can be identified easily from the front.
Some examples of the Spanish origin POTF figures are: Amanaman (Special Shaped bubble), Yak Face with weapon (Gaffi Stick) and Imperial Dignitary (Pictured)
Importantly these figures all have the original PBP Company name text on the reverse -something that would be changed into GMJ (General Mills Juguetes) when the company information was updated, see below.
TYPE : GMJ TEXT TRILOGOS  (ROTJ CHARACTERS)
ORIGIN : SPAIN
PUNCH STYLE :
After production was taken over by General Mills in Spain, the companies information was changed on the back of the cards, previously the text was "Rodgau BRD, PBP, S.A. Spain." as shown below.
The new General Mills cardback shows the changed text as "Rodgau BRD GMJ S.A. Spain"

If you look closely you will also notice that the Meccano company address is different as well.
These cards are quite rare most probably because of their short release, the changed occurred quite some time after the first Trilogos were produced and were probably not in production for a great deal of time. A minor change but a significant one  nonetheless for the Spanish Trilogo story.
Not every figure was released on this Spanish Trilogo packaging among them were – Wicket, Teebo, Nikto, Leia Poncho.
The round punch hole and the larger "Spanish" bubbles appear on these cards so they can be identified from the front as well as the back

MECCANO PRODUCED TRILOGOS

TYPE : REISSUE AND ROTJ CHARACTER TRILOGOS
ORIGIN : FRANCE

Referred to as "Early Macao" or "French Trilogos" these cards are quite similar to the high quality Palitoy type 1 trilogos in appearance, the card is well made on thick cardstock with a glossy finish and the Lucasfilm trademark is underneath the white racetrack.
Meccano cards actually have some pretty cool differences from their Palitoy counterparts which can be seen from the front –
Most have special shaped Meccano ROTJ edition bubbles and of course the easiest way to tell – the cards country of origin is sometimes covered over with a small black or white sticker written in French, black is common compared to white but both are quite rare.
It appears the factories in Macao were the ones supplying Meccano with the majority of figures, the French stickers usually read "Fabrique a Macau" which simply means "Made in Macao" but there are also other COO's translated such as Taiwan.
These cards are exclusive to the French Market and are very unlikely to be found outside of France.

TYPE 1 :
PUNCH STYLE :

(Full circle)
Type 1 cards are what collectors think of first when talking about French Trilogos, the punch hole shape, instead of a semi circle is a full circle. A very heavy card with a dark print colour, the backs are glossy also with an almost orange background colour behind the figures.
TYPE 2 :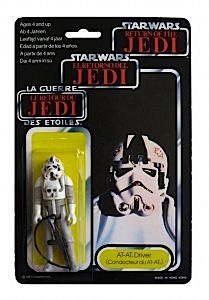 PUNCH STYLE :

(Similar to the Palitoy type 3 – a semi circle mostly found punched without perforation lines)
This is a second French Variant, can still be found with the COO stickers but the punch has now changed shape, the important thing to look at if there is no sticker would be the bubble because Meccano did not use the large etched or rounded bubbles that Palitoy used.
TYPE : POTF CHARACTER TRILOGOS
ORIGIN : FRANCE
Just like PBP in Spain, Meccano also released POTF figures on what appear to be standard "Palitoy" type cards, there is little to no difference here with the card.
The way to identify the origin of the POTF figures is all to do with the bubbles used.
The French POTF figures were released with a thin but quite large bubble not too different to the Palitoy version (etched /rounded) but the corners that attach to the cardback are NOT squared off, they are in fact rounded. These same bubbles are found on some Meccano ROTJ character cards.

PARKER PRODUCED TRILOGOS

TYPE : REISSUE AND ROTJ CHARACTER TRILOGOS
ORIGIN : GERMANY? (TBC)
PUNCH STYLE :

(A long thin punch shape with a triangular shape in the middle)


(Whilst very similar to the Palitoy 70C punch its important to note the German card can be found unpunched whereas the Palitoy 70C/Type 2 appears to be factory punched- they are both quite long in shape. It is easy to confuse these cards with the 70C sometimes as the punch hole can often be slightly misshaped due to damage but if in doubt look at the Lucasfilm trademark position below the figure, if it's inside the white border its a 70C/Type 2 – if it's outside and underneath the border then its a "Parker"/"German" Trilogo)
In reality the "Parker" Trilogos are probably not Parker at all, however they have for the longest time been associated with Germany. It's important to note that these "German" cards have been found with UK price stickers on them and some of the Palitoy variants mentioned above have been found with German price stickers so in my opinion there isn't a strong case for them being only available in Germany. In time we may well find out these cards were yet another Palitoy variant that was just distributed in other countries and was perhaps produced in a different factory (hence the colour variation of the print on the back of the card and the punch variation) but for now they will be classed as Parker and their origin as Germany to stick to what they are currently classed as.
As you saw above this card has a special punch shape but they can also be identified another way, apart from that unique punch shape the other distinguishing feature is on the reverse of the cardback, the normal bright orange background of the figures is a lot lighter, in fact its almost yellow in comparison, this may not seem like a huge variation and indeed was probably only due to the cards coming from different print companies but it helps to identify this particular card variant.